Prolift Product Update. The ELESCAF is a lightweight modular aluminium platform which is used during the installation process of elevators. The platform can be installed at any floor level and enables engineers to install hoisting equipment (Minifor / T
Thursday 1st November 2018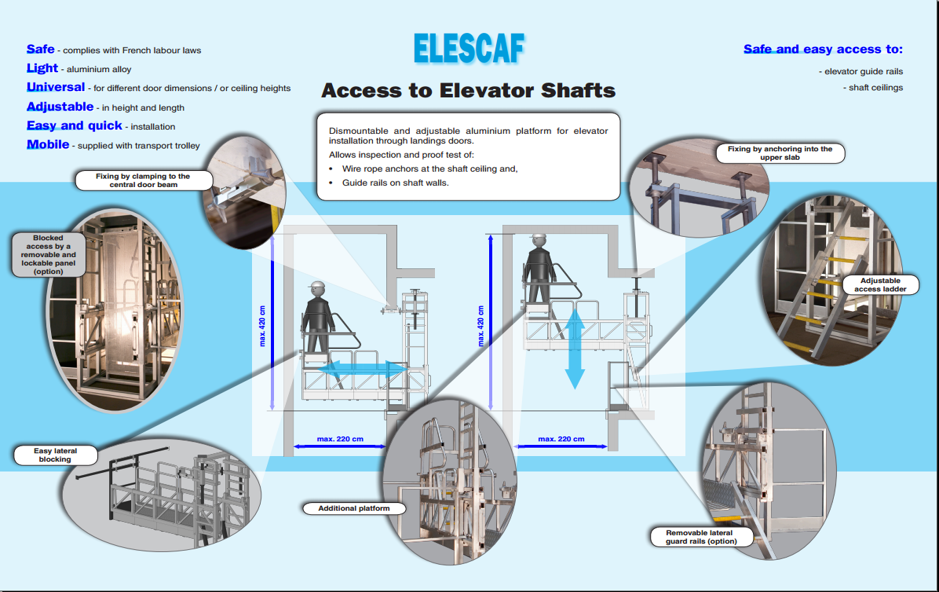 The ELESCAF is a lightweight modular aluminium platform which is used during the installation process of elevators. The platform can be installed at any floor level and enables engineers to install hoisting equipment (Minifor / Tirak) required for the installation of the cabin and guide rails.
ELESCAF consists of the following components

A system designed to be completely dismantled for multinational use




System mounting via Lintel or suitable ceilings (maximum installation height of 3000mm)



Minimum width of door opening 790mm.

Options include:

Removable panel, lockable with padlocks for unauthorized access and additional safety.

Side handrails to further add to the safety and avoid falling into the shaft.

Additional floor system to provide a riser of 850mm at the end of the platform.

System Usage:

Access to the ceiling of elevator shafts for attaching anchor points.

I

nstallation of guide rails and elevator cables.

Inspection, adjustment and maintenance of guide rails.

Features:
3

00kg (2 people) WLL

Ergonomic working position

Accident risk greatly reduced

15 minutes installation time

Lightweight (aluminium alloy) 140kg

Tool free assembly

Highly adaptable to "all" suitable building structures

Easily transportable (supplied with trolley)

Minimal components

2 Mounting options (Ceiling or Lintel).
Applications:
The Minifor TR50 (500kg) machine can be used with the long range remote control.The long range remote has a stronger signal which can bounce around inside the lift shaft. This is used for lifting materials up and down quickly and easily while carrying out the maintenance. The rope can be easily changed out if you need a different length making it flexible and effecient.

Tirak 1 and 2 ton machines for man riding are also used. A temporary platform is erected in the lift shaft using a Tirak and a Blocstop as a secondary safety device. This allows the service engineers to travel up and down and access the sides and top of the shaft to carry out maintenance.
This system that has to be designed in conjunction with the lift manufacturer as the dimensions can be very tight.